Each soap's combination of sand exfoliants and relaxing oils creates a soul-soothing experience.
Hand-crafted in California, our soap calms and soothes the skin while refreshing the spirit. Infused with sand to naturally exfoliate and soften.
100% NATURAL
HAND-CRAFTED IN CALIFORNIA
Vegan
Gluten-free
No animal testing
No phthalates, petrochemicals, dyes or parabens
$1 OF EVERY CANDLE SOLD WILL GO TO FIRE PROTECTION & EMERGENCY SERVICES IN BIG SUR.
Light your BIG SURf Candle for a cause. Our Wildfire Candle was created to support the firefighters, emergency service workers and volunteers of Big Sur. Every day, they work to tame the wildfires and clear debris from the mudslides that devastated too much of California. Their tireless efforts will allow evacuees to return to their homes, and restore the beauty of Big Sur for generations to come. Their courage and devotion burn bright.
Our Story
Since childhood, the coastal cliffs, salt water surf, and near-mystical redwood forest of California have fascinated me and shaped my soul. My earliest memories are of driving down the Pacific Coast Highway from San Francisco, with my father happily at the wheel and me, his seven year old son, enthralled by the views from the back seat. In my minds eye I see myself wide-eyed with wonder at the magnificent scenery that unfolded in front of me. Cliff after cliff, in an endless parade of beauty, flew past our window- and above, the canopy of trees and the vaulted sky filled with stars and reflecting the ocean spread out in greatness. I have never felt so small and so large at the same time.
As an adult, I worked for 15 years as creative director in the fast paced fashion and beauty industry- but I never forgot those inspirational and formative childhood experiences, experiences which inspired me to create Big Surf California soaps.
Just as the jagged California coastline of cliffs stands juxtaposed to the calm expanse of ocean in Big Sur, our Big Surf soap combines elements of intensity with those of gentleness. Each soap's combination of sand exfoliants and relaxing oils create a soul-soothing experience.
Year after year I find myself summoned back to the grandeur of those cliffs, the inspiration of the silent pristine forest, and the artist awaking mystery of the early morning fog.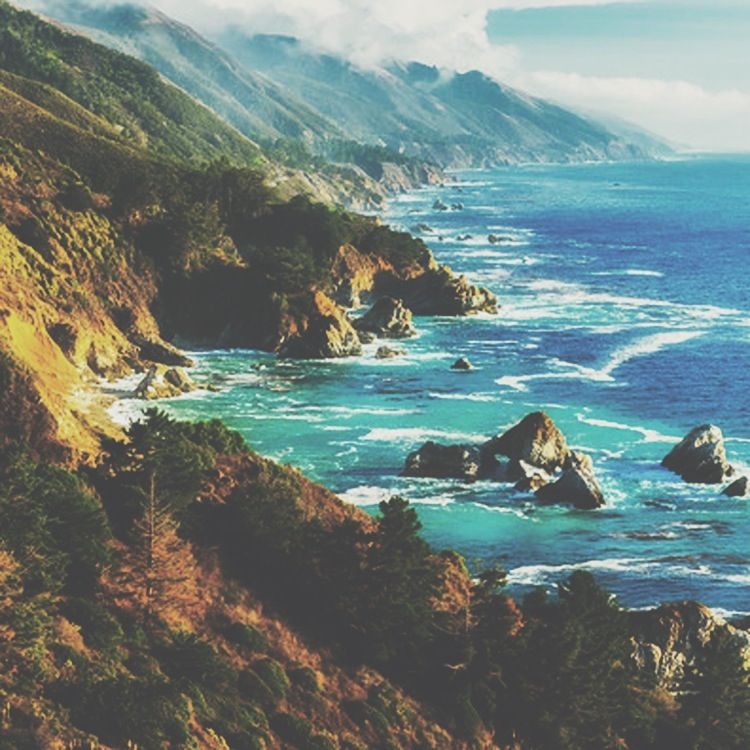 "Journey to the sea and immerse yourself in the splendor of Big Sur, where the mist gathers along the cliffs and the Pacific Ocean stretches out in an endless expanse of blue."